340B PROGRAM ASSESSMENT CHECKLIST
340B Drug Pricing Program Background
The 340B Program provides discounts on outpatient drugs to certain safety net health providers such as Federally Qualified Healthcare Centers (FQHCs). The program's intent is to allow safety net providers to increase patient services with the savings realized from participation in the 340B program. Providers typically save 25-50% on outpatient drug costs through participation in the program. These savings can be used to reduce the price of pharmaceuticals for patients, expand services offered to patients, or provide services to more patients. Outpatient prescription drugs, over the counter drugs (accompanied by a prescription), and clinic-administered drugs within eligible facilities are covered. Vaccines and inpatient drugs are not covered .
​
1. "340B Drug Pricing Program". HHS.gov, https://www.hhs.gov/opa/grants-and-funding/340b-drug-pricing-program/index.html (accessed January 24, 2019)
​
Key 340B pharmacy capabilities that need to be assessed in order to evaluate if the 340B pharmacy services are optimizing the opportunities afforded through the 340B Drug Pricing program.
Pharmacy Assessment Questionnaire
Does the Covered Entity currently have 340B pharmacy contracts with any pharmacies to provide prescription services for your patients?
---
In order to capitalize on the benefits of the 340B program as envisioned by HRSA, a covered entity must either contract for 340B pharmacy pricing with a third-party pharmacy(s) and / or manage their own in-house 340B registered pharmacy.
---
If the Covered Entity has 340B pharmacy services, has the organization recently evaluated the value that the 340B pharmacy program is providing for the organization?
---
It is important for the Covered Entity clinic to take the time to thoroughly evaluate if the facility is missing out on valuable clinical pharmacy services and important revenue streams that could help support the facility's service goals. Going through this assessment is an effective way to help determine if your organization is taking advantage of all the opportunities afforded by the 340B Drug Pricing Program.
---
How are the current 340B pharmacy services optimizing medication access and supporting the clinical medication needs of the Covered Entity's patients?
---
NOTE: The Covered Entity needs to differentiate and document a list of how its 340B pharmacy services enhance the accessibility and clinical utility of medications for their patients as compared to standard pharmacy services. The following should be evaluated to assess the Covered Entity's 340B pharmacy prescription services. Medication Access Operational Considerations
Prior Authorization Expertise:

How do the pharmacy services help the Covered Entity's clinic in facilitating the Prior Authorization of medications that will not be automatically covered by patient's health plan unless it receives plan authorization? This is an important competency that helps expedite medication access and reduces administrative burden for the clinic's medical team, allowing for more patient care time.​
Convenience Receiving Filled Prescriptions:

What services does the pharmacy provide to make receiving medication convenient for the Covered Entity's patients? Offering the following optimizes access for patients.

° Mail delivery
° Courier home delivery
° In-clinic licensed pharmacy and/or medication dispensaries: facilitating medication pick up at the clinic
° Customized services for patients who have sensitivity concerns pertaining to their privacy on the type of medication they are receiving
Medication Clinical Expertise Considerations:
In-clinic Pharmacist:

Does the pharmacy have the expertise and experience in managing a clinical pharmacist to work with the patient's care team (i.e. physician, nurses) to optimize medication management? Expertise in having a clinical pharmacist as part of the clinical care team is a capability that helps to better ensure optimal medication management.
Clinical Pharmacist Tools:

Does the pharmacy utilize any standard of care clinical database tools to improve and standardize medication utilization?

NOTE: Optimal medication utilization is managed through time-tested processes to ensure the best therapy for a patient's medical condition as well as minimize any adverse drug events due to drug allergies, drug interactions, drug disease state interactions and managing known drug side effects. There is software-based clinical tools available that a pharmacy should utilize to help optimize medication management.
Specialty Pharmacy Services:

To take full advantage of the 340B Pharmacy Drug Pricing Program the Covered Entity (i.e. FQHC) should be contracted with an accredited (i.e. URAC, ACHC, etc.) specialty pharmacy to provide quality clinical specialty pharmacy services.
---
How do the Covered Entity's pharmacy services help support the financial goals of the organization as envisioned by HRSA?
---
NOTE: An exceptional 340B pharmacy program should help identify cost saving and revenue generating opportunities that can be facilitated through the 340B Drug Pricing Program. The following service capabilities are necessary for 340B pharmacy services to be effective in helping a Covered Entity (i.e. FQHC) optimize revenues through the 340B pharmacy pricing program:
Data Analytics:

Expertise in obtaining and analyzing drug utilization data to help prioritize therapeutic areas that afford the greatest financial opportunities for the clinic.​
Pull Through Process:

Expertise and experience in working with the Covered Entity's management and clinical staff in implementing pull through programs that will facilitate optimal revenues for the clinic.
---
How does the 340B pharmacy contracted cost compare to national average rates?
---
A recent US Government Accountability Office (GAO) audit reported that there is a wide range of rates charged by pharmacies. The following table illustrates the different contractual arrangements that exist in the 340B pharmacy market. Covered Entities (i.e. FQHCs) need to analyze their drug utilization spend and revenues to assess which 340B contract arrangement best supports their financial goals.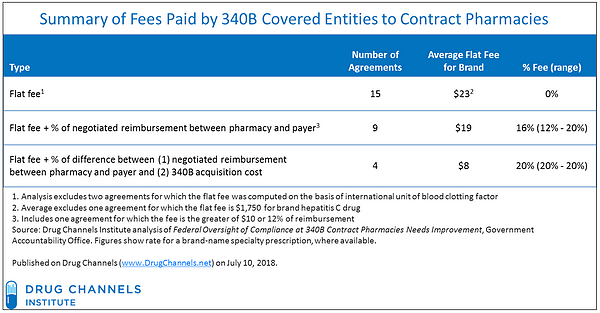 ---
---